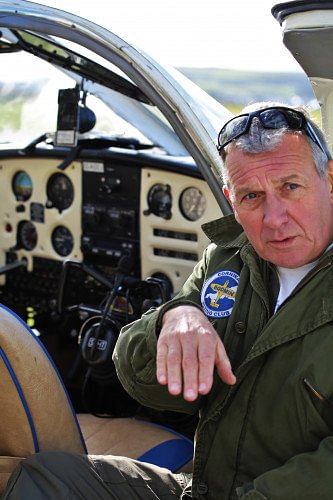 Excursion flight
You will fly from Perranporth to St Mary's to enjoy your time there, then you will fly back.
View flight plan
Private pilot
A private individual flying in their own free time who contributes to the total price through cost sharing.
Description
How about a day trip the to absolutely stunning Isles of Scilly? Leave first thing from Perranporth, land in under an hour taking in the sights, Godrevy lighthouse, lands end and much more. Then once on the ground, St Marys has a lot to offer - beautiful walks and views, amazing place to sample the exquisite food and drink available, or take a boat trip to one of the equally outstanding off islands. A Cornish cream tea is a must "Jam first of course!!" when you are totally exhausted from walking...
Flight plan
Sightseeing points

Godrevy Lighthouse, United Kingdom
St Ives, Cornwall, UK
Land's End Landmark Attraction, Land's End, Sennen, Penzance, Cornwall, UK
Aircraft
Verified by Wingly
Our team has thoroughly checked the pilots license and medical certificate.
Private pilot
A private individual flying in their own free time who contributes to the total price through cost sharing.
Flight Log
325 total flying hours • 60 flight hours in the last 12 months
https://youtu.be/sxDEHypUlPw (Just highlight the link, right click and you will get the option to open the link). Hi this is Carl I am an Assessor/Trainer working for the RNLI lifeboat crews and also have a passion for flying having served for many years in the RAF. My face book page will show many photographs and videos of my flights. I feel it an absolute privilege to be able to fly and wherever I can, I share my passion with others. I currently fly a PA28 which has four seats i can car...
Pilot reviews
Scenic flight of Cornwall's North and South coast

Excellent flight , Carl was very knowledgeable and friendly, kept us informed throughout the flight, pointing out different landmarks throughout the trip . Thank you Carl

Scenic Flight over St Ives and Lizard Point

Carl was very friendly and had alot of knowledge of the area. The overall experience was amazing. We would highly recommend the experience Thank you so much.

Scenic Flight, Perranporth, Tintagel, Plymouth, Falmouth

My son and I had an incredible flight with Carl, since we were both nervous flyers Carl put us at ease immediately. He is so knowledgeable about Cornwall from the sky, we knew exactly where we were at all times. He was very careful around the clouds which means there was very little turbulence. We highly recommend Carl and will definitely go with Carl again the next time we are flying, thank you Carl 😊

Scenic Flight, Perranporth, Tintagel, Plymouth, Falmouth

Absolutely fabulous flight. Carl was an amazing pilot. Very informative about places we were flying over History of the plane too Lovely to fly over all our favourite places. Padstow, polzeath, port Isaac all the lovely beaches then over to the other side. Looe to Falmouth Amazing 1hr flight. Would highly recommend Carl Great pilot

Cornwall Lighthouse Sightseeing Trip

What a fantastic and enjoyable flight with Carl we had. We flew round the coast of our beautiful county, but my goodness from the air Cornwall is absolutely magnificent. We saw some wonderful sights, the sea so blue and the surf so white it was lovely. The flight was a birthday present for my husband who was really looking forward to his treat, unlike me who does not like flying at all, I was very reluctant. Five minutes after take off my fears were allayed and and I thoroughly enjoyed every min...
Things to know
Total experience time
The total experience time is 1h 45m as it includes briefings and 1h 45m for flying.
Weather
Good weather conditions are required for this flight to take place. The pilot may need to postpone or cancel your booking.
Cancellation policy
You can cancel up to 24 hours before the flight date.
What to bring
Feel free to bring your camera and sunglasses onboard.
We've got you covered
All Wingly flights are automatically covered by our Allianz insurance for claims up to €1,000,000. This covers all passengers and their belongings.
Learn more about the insurance
Frequently asked questions