Christmas Sale 🎄
Save up to CHF 100 with code SANTA.
Almost late for your Christmas shopping👇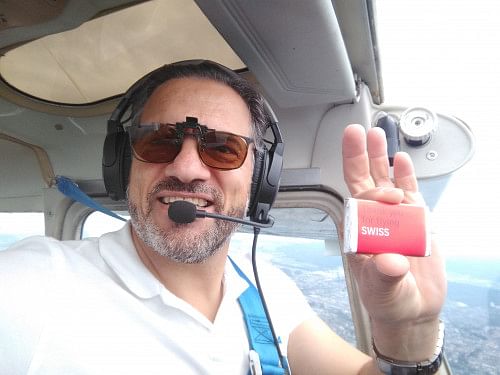 Excursion flight
You will fly from Lupfig to Strasbourg to enjoy your time there, then you will fly back.
View flight plan
Private pilot
A private individual flying in their own free time who contributes to the total price through cost sharing.
Description
Ausflug von Birrfeld nach Strasbourg Transfer: Vom Flughafen in die wunderschöne Altstadt von Strasbourg. 4 Std. Aufenthalt. (Auf Wunsch auch begleitet) Treffpunkt Petite France. Rücktransfer zum Flughafen. Rückflug Strasbourg - Birrfeld
Aircraft
Verified by Wingly
Our team has thoroughly checked the pilots license and medical certificate.
Private pilot
A private individual flying in their own free time who contributes to the total price through cost sharing.
Flight Log
420 total flying hours • 80 flight hours in the last 12 months
Meine Mission ist, unsere schöne Erde aus einer anderen Perspektive zu zeigen.
Pilot reviews
Rundflug: 6 Seen Flug

Enzo ist ein SEHR pflichtbewusster ; Pilot; er hat uns sehr gut informiert; uebers Fliegen, Landschaft, Berge, ect. War sehr schoen ; wir haben uns sehr wohl gefuehlt; er hat unsere Termine sehr schnell kordiniert; sehr empfehlenswert und lehrreich, mit Enzo zu fliegen, sehr symphatisch und zuvorkommend!! Grosses Kompliment!! Wir wuerden jederzeit wieder mit ihm fliegen!!

Rundflug: 6 Seen Flug

Super toller Rundflug mit Enzo gehabt. Er war sehr freundlich und hat uns vor, während und nach dem Flug alles Wissenswerte erklärt und unsere Fragen beantwortet. Danke Enzo für diese einzigartige Flugerfahrung.

Rundflug: 6 Seen Flug

Sehr schöne Erlebnis! Unkomplizierte Kommunikation im Vorfeld und Treffpunkt wie besprochen. Enzo ist sehr sympathisch, und ruhig. wir haben uns die ganze Zeit sicher und in guten Händen gefühlt. Besten Dank Enzo

Rundflug: 6 Seen Flug

Top Flug! Enzo verdient höchstes Lob für unseren aussergewöhnlichen Flug. Als Neuling in der Welt der Kleinflugzeuge war meine Anspannung spürbar *lacher*, doch Enzo bewies sich als herausragender, Routinierter Pilot und Kommunikator der es schaffte meine anspannung zu vergessen. Besonders beeindruckend war, wie er uns die umliegende Landschaft, die Seen und die Berge detailliert und verständlich erklärt hat. Er liess uns keine offenen Fragen und erweckte die gesamte Szenerie zum Leben. :) D...

Rundflug: 6 Seen Flug

Very nice and interesting flight. Friendly Pilot
Things to know
Total experience time
The total experience time is 2h as it includes briefings and 2h for flying.
Weather
Good weather conditions are required for this flight to take place. The pilot may need to postpone or cancel your booking.
Cancellation policy
You can cancel up to 24 hours before the flight date.
What to bring
Feel free to bring your camera and sunglasses onboard.
We've got you covered
All Wingly flights are automatically covered by our Allianz insurance for claims up to €1,000,000. This covers all passengers and their belongings.
Learn more about the insurance
Frequently asked questions