Christmas Sale 🎄
Save up to €100 with code XMAS.
Almost late for your Christmas shopping👇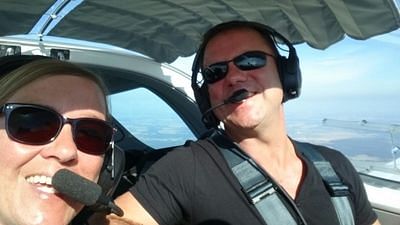 Excursion flight
You will fly from Hannover to Borkum to enjoy your time there, then you will fly back.
View flight plan
Private pilot
A private individual flying in their own free time who contributes to the total price through cost sharing.
Description
Du hast die Wahl, auf welche Insel deine Reise heute gehen soll. Zur Auswahl stehen Borkum, Baltrum, Juist, Norderney, Langeoog, Wangerooge und Helgoland. Wir treffen uns um 08:30 Uhr am Flughafen und landen um ca. 10:00 Uhr auf der Insel deiner Wahl. Gegen 17:00 Uhr geht es dann zurück nach Hannover. Flugpreis gilt auch für Oneways. Flüge auf die Insel Baltrum sind auf 2 Erwachsene + 1 Kind bis 12 Jahren begrenzt.
Aircraft
Verified by Wingly
Our team has thoroughly checked the pilots license and medical certificate.
Private pilot
A private individual flying in their own free time who contributes to the total price through cost sharing.
Flight Log
371 total flying hours • 15 flight hours in the last 12 months
Moin! Ab Hannover fliege ich am Liebsten zu den Nordseeinseln, nach Helgoland und Sylt, sowie an die Ostsee nach Wismar, Rostock, Barth, Rügen und Usedom. Beruflich habe ich täglich mit den großen Airlinern zu tun und habe vor einigen Jahren meinen "Beruf zum Hobby gemacht". Ich freue mich darauf, euch bald an Bord begrüßen zu dürfen.
Pilot reviews
Rundflug in den Sonnenuntergang über Hannover und die Region

...super Wetter, genau richtig geplant... Danke lieber Björn für den tollen Rundflug über Hannover, in unsere Region und für deine Erläuterungen. Die Zeit verging viel zu schnell, wir werden bestimmt noch einmal deinen Flugservice buchen....Einen schönen Abend euch und viele Grüße von Uschi und Heinfried

Reiten auf Borkum für Claudia & Johanna

Wir hatten einen super schönen Tag auf Borkum und zwei wirklich tolle Flüge. Björn ist total nett und sich Zeit für all unsere Wünsche genommen. Wir würden ihn wärmstens weiter empfehlen!

Ein Tag auf Borkum für Sylvia & Karsten

Wir sind mit Björn auf die Insel Borkum geflogen. Das war ein Geburtstagsgeschenk von meiner besseren Hälfte. Da ich mit Höhenangst zu tun habe, war mir sehr mulmig zu Mute ob ich den Flug in so einer kleinen Maschine überstehe. Dann nahm Björn uns am Flughafen in Empfang, war super fürsorglich und hat uns alles bis ins kleinste Detail erklärt. Der Flug war so phantastisch, wir hatten tolle Sicht und einen Piloten, der mir durch seine ruhige und sympathische Art ein sicheres Gefühl vermittelt ha...

Ein Tag auf Helgoland für Dieter und Harald

Ein perfekter Tag!!! Bereits im Vorfeld lief alles wie am Schnürchen Antfragen beantwortet Björn nach kurzer Zeit. Die Organisation war sehr gut (Anfahrtbeschreibung, Parkmöglichkeit). Björn hat von Anfang an das Gefühl vermittet in guten Händen zu sein. Da das Wetter mitspielte, war der Flug nach Helgoland ruhig wie in einem Verkehrsflugzeug.Jede noch so laienhafte Frage wurde von Björn beantwortet. Auch die Hinweise für den Hegolandaufenthalt waren hilfreich. Auch der Rückflug war ebenfalls...

Frohe Weihnachten - ein Tag auf Helgoland für die beste Iris der Welt.

Vielen Dank für den tollen "Ausflug" nach Helgoland. Super bereits im Vorfeld betreut und bis zum Ende eine sehr runde Sache. Uns hat's gefallen und wir würden uns freuen mal wieder mit einzusteigen. Lieben Gruß Iris&Klaus
Things to know
Total experience time
The total experience time is 12h as it includes briefings and 2h 30m for flying.
Weather
Good weather conditions are required for this flight to take place. The pilot may need to postpone or cancel your booking.
Cancellation policy
You can cancel up to 24 hours before the flight date.
What to bring
Feel free to bring your camera and sunglasses onboard.
We've got you covered
All Wingly flights are automatically covered by our Allianz insurance for claims up to €1,000,000. This covers all passengers and their belongings.
Learn more about the insurance
Frequently asked questions