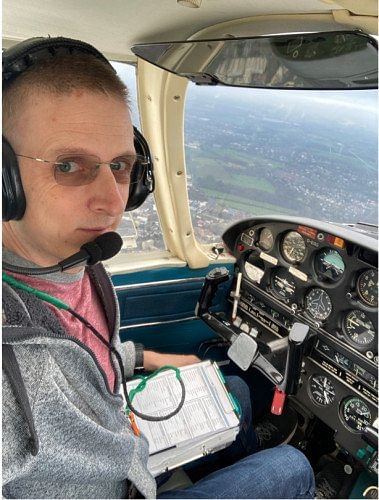 Sightseeing flight
You will fly from Mönchengladbach and come back. Enjoy the beautiful landscapes along the way.
View flight plan
Private pilot
A private individual flying in their own free time who contributes to the total price through cost sharing.
Description
Wir starten zunächst aus Mönchengladbach Richtung Norden. Der Freizeitpark Irrland befindet sich am Rande der Kontrollzone des Flughafens Niederrhein. Beobachte die bunten Flugzeuge des Freizeitparks und die kleine "Landebahn" dort aus der Luft! Als nächstes kannst Du die Landebahn des Flughafens Niederrhein beobachten, wie Du sie noch nie gesehen hast, während wir die Kontrollzone von Süd nach Nord durchqueren. Kurz danach kommen wir beim Wunderland Kalkar am Rhein an. in dem ehemaligen Kühl...
Flight plan
Sightseeing points

Irrland, Am Scheidweg, Kevelaer, Germany
Weeze Airport (NRN), Flughafen-Ring, Weeze, Germany
Wunderland Kalkar, Griether Straße, Kalkar, Germany
Aircraft
Verified by Wingly
Our team has thoroughly checked the pilots license and medical certificate.
Private pilot
A private individual flying in their own free time who contributes to the total price through cost sharing.
Flight Log
300 total flying hours • 50 flight hours in the last 12 months
Begeisterter Freizeitflieger und langjähriger Wingly-Pilot :)
Pilot reviews
Sightseeing Düsseldorf und Köln

Toller Rundflug mit meinem Sohn. Janos ist ein sehr sympathischer und super Pilot. Er ist nicht nur super geflogen, sondern hat auch während des Fluges die Landschaft und Technik des Flugzeuges ausführlich erklärt. Auch Sonderwünsche, soweit von der Flugsicherung genehmigt, hat er erfüllt. Kurzum: Alles bestens; gerne wieder; vielen Dank!!! Gruß Markus

Militärflughafen Brüggen - Alte Basis der "Tommys"

Sehr zufrieden! Die erhofften Eindrücke würden übertroffen! Der Pilot war super freundlich, der Flug unbeschreiblich schön!

Sightseeing Düsseldorf und Köln

Es war wirklich ein super Flug! Janos hat und super viel erklärt und gezeigt. Ich kann es wirklich sehr empfehlen ☺️

Sightseeing Düsseldorf und Köln

Der Flug war super. Wir würden es immer wieder machen. Die Wünsche der Flugrouten Änderung wurden direkt mit eingebaut. Ein großes Dankeschön an den Piloten, es hat uns super gefallen.

Stadiontour + MoviePark am Niederrhein und im Ruhrgebiet

Ein super Pilot und freundlicher Mensch. Davon gibt es zu wenig. Janos hat un s von Anfang bis Ende mit solch einer Ruhe und Freundlichkeit alles erklärt. Der Flug war eine Std.lang und einfach super. Ich kann nur sagen= Prima Janos!!
Things to know
Total experience time
The total experience time is 1h as it includes briefings and 1h for flying.
Weather
Good weather conditions are required for this flight to take place. The pilot may need to postpone or cancel your booking.
Cancellation policy
You can cancel up to 24 hours before the flight date.
What to bring
Feel free to bring your camera and sunglasses onboard.
We've got you covered
All Wingly flights are automatically covered by our Allianz insurance for claims up to €1,000,000. This covers all passengers and their belongings.
Learn more about the insurance
Frequently asked questions