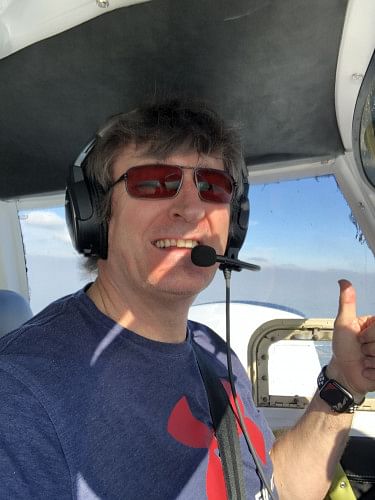 Sightseeing flight
You will fly from Belton and come back. Enjoy the beautiful landscapes along the way.
View flight plan
Private pilot
A private individual flying in their own free time who contributes to the total price through cost sharing.
Description
Not taking requests for single flyers. Flight for two or three people only. After departing Sandtoft Airfield head for the Humber Bridge, then on to Hull before heading to Spern point at the mouth of the Humber Estuary, head across the water over Cleethorpes, toward Grimsby Dock Tower. Hopefully we have clear skies so you can see how pilots navigate. After an enjoyable and scenic flight we will land back at Sandtoft. Time for the flight is weather/wind dependent. The weight limit for passengers...
Flight plan
Sightseeing points

Humber Bridge, United Kingdom
Hull, UK
Spurn Point, Hull, UK
Aircraft
Verified by Wingly
Our team has thoroughly checked the pilots license and medical certificate.
Private pilot
A private individual flying in their own free time who contributes to the total price through cost sharing.
Flight Log
260 total flying hours • 58 flight hours in the last 12 months
The aircraft only has at any one time 3 seats available. I have put this as I have been getting a lot of requests for more than 3 seats, hopefully you will read this before messaging myself. Thanks I have been flying for around 7 years, mainly flex wing microlights, the last 4 years is fixed wing. Mainly now flying my PA-28, in addition I have also flown Cessna 150s, 152s and 172s whilst in training. I bought the PA-28 as my wife would never come up in a flex wing microlight, so an aeroplane ...
Pilot reviews
Humber bridge, Hornsea and the Humber estuary

100% best day of my son's life , managed to drop on a good day - considering time of year . . Miks fantastic pilot and great guy , he tried and tried to engage conversation with my son but he's super shy with strangers, and was busy in his own world - he's wanted to go up in a plane forever ! ! Absolutely made his day !!! will definitely go again with mik , although my son will need someone else to accompany him, lol , my stomach hated the few bumpy bits we had , but mik was brilliant and went...

Sightseeing flight: Humber Bridge and back from Belton

Mik was fantastic, very friendly and made us all feel at ease. He was very knowledgeable and my partner really enjoyed chatting to him as we flew. He made my son's day by letting him ride in his Tesla which topped off his birthday treat perfectly! I would happily recommend Mik to anyone and would book again with him in future.

Scarborough and Bridlington seaside flight

Great pilot, really friendly and knowledgeable about the area. Loved the fllybys of Scarborough and Flamborough. Thanks Mik!

Humber bridge, Hornsea and the Humber estuary

My dad & husband have had the best time flying with Mik this afternoon! Amazing pilot and a fantastic experience.

Scarborough and Bridlington seaside flight

Mik was a brilliant host and pilot he made us feel comfortable all the way throughout and explained everything thoroughly. It was in the middleof the first heatwave that we had booked the flight and I was also pregnant and within 20 minutes of the flight setting off unfortunately I was sick Mil was brilliant snd understanding and turned back right away although we didn't get to experience the full flight and get to our destination Mik made us both feel very comfortable and even arranged a refund...
Things to know
Total experience time
The total experience time is 1h 10m as it includes briefings and 1h 10m for flying.
Weather
Good weather conditions are required for this flight to take place. The pilot may need to postpone or cancel your booking.
Cancellation policy
You can cancel up to 24 hours before the flight date.
What to bring
Feel free to bring your camera and sunglasses onboard.
We've got you covered
All Wingly flights are automatically covered by our Allianz insurance for claims up to €1,000,000. This covers all passengers and their belongings.
Learn more about the insurance
Frequently asked questions