Christmas Sale 🎄
Save up to €50 with code XMAS.
Almost late for your Christmas shopping👇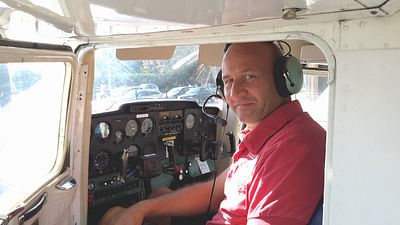 Sightseeing flight
You will fly from Besançon and come back. Enjoy the beautiful landscapes along the way.
View flight plan
Private pilot
A private individual flying in their own free time who contributes to the total price through cost sharing.
Description
Au départ de Besançon La Vèze, nous survolerons les paysages pittoresques de notre région : la Saline Royale d'Arc-et-Senans, puis Arbois avant de mettre le cap sur Salin-les-Bains. Puis nous survolerons la commune de Frasne avant de rejoindre le lac de Saint-Point. Niché au sommet d'une roche, le château de Joux nous montrera ses plus beaux remparts, et nous guidera vers Pontarlier. Nous longerons ensuite la vallée de la Loue en découvrant ces lacets et survolerons la ville de Gustave Courbet a...
Flight plan
Sightseeing points

Saline Royale d'Arc-et-Senans, Grande Rue, Arc-et-Senans, France
Arbois, France
Salins-les-Bains, France
Aircraft
Verified by Wingly
Our team has thoroughly checked the pilots license and medical certificate.
Private pilot
A private individual flying in their own free time who contributes to the total price through cost sharing.
Flight Log
470 total flying hours • 60 flight hours in the last 12 months
Le jour de mes 18 ans, mes parents m'ont offert un vol de découverte au-dessus du Mont Saint-Michel. Ce cadeau magnifique a révélé une réelle passion : quoi de plus magique que de voler ? Aujourd'hui je suis ravi de pouvoir partager les moments magiques que d'autres m'ont offert il y a quelques temps déjà. Vu du ciel, tout est différent, alors n'hésitez pas à prendre un peu de hauteur pour découvrir autrement nos belles régions et survoler en toute sécurité un endroit connu. Vous garderez u...
Pilot reviews
Vol touristique de 45 minutes au départ de La Vèze

super vol avec un pilote au top! passioné, entousiaste et super accueillant!

Découvrez les sites pittoresques du Doubs

Très beau vol d'une heure au-dessus de Besançon et ses environs le 2 octobre avec Michel qui est un pilote accueillant et chaleureux, très attentif aux questions et envies de ses passagers! Nous recommandons sans restriction aucune!

Le Mont Blanc (circuit court)

Waouh!!! Quelle expérience inoubliable !!! Michel est vraiment extra. Il est à la fois à votre écoute et il partage sa passion en toute simplicité. La météo ayant été très instable pendant longtemps, le vol a été reporté à plusieurs reprises. Ce n'est pas toujours facile de trouver le bon moment mais il est essentiel d'être un peu patient pour en prendre plein les mirettes. Quelle magnifique région avec une diversité de paysages extraordinaires. À refaire !!! Merci à Michel et à nos enfants qui...

Le Mont Blanc (circuit court)

Nous avons eu l'incroyable opportunité de voler avec Michel grâce à l'application Wingly et nous ne pourrions être plus ravis de notre expérience ! Dès le premier contact, Michel a fait preuve d'une grande amabilité et d'un professionnalisme rassurant. Le vol lui-même a été une expérience inoubliable. Michel a partagé sa passion pour l'aviation avec enthousiasme, ce qui a rendu le voyage non seulement sécuritaire, mais aussi incroyablement intéressant. Son expertise et sa connaissance de la rég...

Découvrez le Jura et survolez le lac de Vouglans

Très bon vol, Michel (pilote) est très sympathique, je recommande fortement.
Things to know
Total experience time
The total experience time is 1h as it includes briefings and 1h for flying.
Weather
Good weather conditions are required for this flight to take place. The pilot may need to postpone or cancel your booking.
Cancellation policy
You can cancel up to 24 hours before the flight date.
What to bring
Feel free to bring your camera and sunglasses onboard.
We've got you covered
All Wingly flights are automatically covered by our Allianz insurance for claims up to €1,000,000. This covers all passengers and their belongings.
Learn more about the insurance
Frequently asked questions