Black Friday
Save up to €40 with code BF23. Offer extended until 30/11.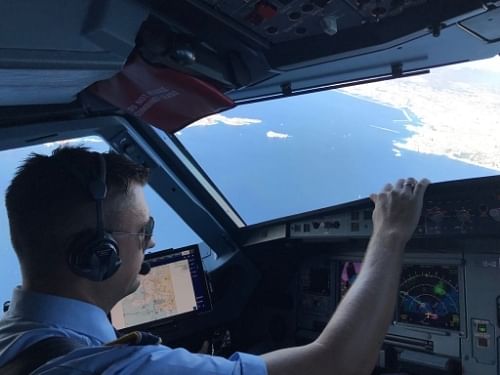 Sightseeing flight
You will fly from Bonn and come back. Enjoy the beautiful landscapes along the way.
View flight plan
Private pilot
A private individual flying in their own free time who contributes to the total price through cost sharing.
Description
Willkomen an Bord! Auf diesem 30-minütigem Rundflug habt Ihr die Gelegenheit das wunderschöne Rheinland aus der Vogelperspektive zu betrachten. Egal ob Geburtstag, Jubiläum oder einfach nur Spaß am fliegen... Für eine Terminabsprache könnt Ihr sehr gerne Kontakt mit mir aufnehmen. Für Flüge am Wochenende braucht es meistens ein Vorlauf von drei Wochen, da ich das Flugzeug selbst anmiete und diese am Wochenende häufig ausgebucht sind. Nachdem wir ein passendes Datum gefunden haben, können wir ...
Flight plan
Sightseeing points

Dom zu Köln, Domkloster, Köln, Deutschland
Phantasialand, Berggeiststraße, Brühl, Deutschland
Bonn
Aircraft
Verified by Wingly
Our team has thoroughly checked the pilots license and medical certificate.
Private pilot
A private individual flying in their own free time who contributes to the total price through cost sharing.
Flight Log
4500 total flying hours • 350 flight hours in the last 12 months
Hallo liebe Freunde der Fliegerei Ich möchte mich kurz vorstellen: Schon seit frühester Kindheit gab es für mich nur ein Ziel...Pilot zu werden. Im Jahr 2006 habe ich mir diesen Wunsch erfüllt und meine Fluglizenz an der Lufthansa Flugschule in Bremen erworben. Nachdem ich einige Jahre Challenger Cl-601 geflogen bin, wurde ich ab 2009 auf A320Fam und A340 umgeschult. 2015 folgte meine Ausbildung zum Kapitän. Da ich vom fliegen nie genug bekommen kann, versuche ich so oft es geht auch mit...
Pilot reviews
Rundflug Köln/Bonn, 1h

Oliver kennt sich mit dem Flugzeug und dem Fliegen bestens aus, ist nett und zuvorkommend. Alle Fragen zum Flugzeug, der Route und zur Umgebung wurden beantwortet. Wir haben beim Flug auf jeden Fall auch etwas übers fliegen dazugelernt. Die Kommunikation war direkt und ohne Probleme. Wir haben mit Ihm wirklich die beste Wahl getroffen. Leider ist es schwer, einen Termin zu finden, da Oliver oft ausgebucht ist. Daher lohnt es sich, vorher Kontakt mit Ihm aufzunehmen. Ich würde jederzeit wieder ...

Rundflug Köln/Bonn, 1h

Ein großartiges Erlebnis mit einem tollen Piloten. Nur zu empfehlen.. auch wir sind nicht das letzte mal geflogen …

Rundflug Köln/Bonn, 1h

Wir hatten am 20.08.2023 einen ziemlich spontanen Flug mit Oliver, da ein Kunde ausgefallen war. Wetterbedingungen waren schon fast optimal. Wenig Wind, typisch diesig in der Kölner Bucht. Von Hangelar aus ging es zuerst über Bonn Richtung Brühl (mit Schloss und Phantasialand), dann Richtung Braunkohletagebau. Wenn man das von oben sieht, wird einem erstmal bewusst, wie groß die Abraumhalde dort ist. Anschließend in einem Knick über Pulheim und einem Überflug über den Vorort, in dem ich lebe, zu...

Rundflug Köln/Bonn, 1h

Hat alles super geklappt, wir hatten eine Menge Spaß !

Rundflug Köln/Bonn, 30min

Es war ein tolles Erlebnis. Oliver hat eine schöne Strecke ausgesucht und hat viel zum Flug und zum Flugzeug erklärt. Ich kann ihn als Piloten auf jeden Fall weiterempfehlen.
Things to know
Total experience time
The total experience time is 35m as it includes briefings and 35m for flying.
Weather
Good weather conditions are required for this flight to take place. The pilot may need to postpone or cancel your booking.
Cancellation policy
You can cancel up to 24 hours before the flight date.
What to bring
Feel free to bring your camera and sunglasses onboard.
We've got you covered
All Wingly flights are automatically covered by our Allianz insurance for claims up to €1,000,000. This covers all passengers and their belongings.
Learn more about the insurance
Frequently asked questions