Christmas Sale 🎄
Save up to €50 with code XMAS.
Almost late for your Christmas shopping👇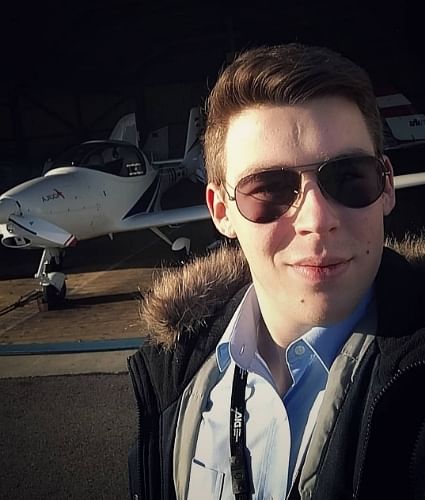 Sightseeing flight
You will fly from Bad Vöslau and come back. Enjoy the beautiful landscapes along the way.
View flight plan
Private pilot
A private individual flying in their own free time who contributes to the total price through cost sharing.
Description
Der Schneeberg ist der höchste Berg Niederösterreichs und wird auch "Hausberg der Wiener" genannt. Sowohl im Winter als auch im Sommer ist es ein besonderes Erlebnis, dieses Bergmassiv von oben zu betrachten. Während sich die Wanderer und die Zahnradbahn mühsam auf den Berg quälen müssen, schweben wir mit Leichtigkeit um den Gipfel und genießen den Ausblick. Wir fliegen mit einem Flugzeug der Type DA40. Diese wird am Nachbarflugplatz in Wiener Neustadt von der Firma Diamond Aircraft produziert ...
Flight plan
Sightseeing points

Hohe Wand, Österreich
Schneeberg, Österreich
Rax, Österreich
Aircraft
Verified by Wingly
Our team has thoroughly checked the pilots license and medical certificate.
Private pilot
A private individual flying in their own free time who contributes to the total price through cost sharing.
Flight Log
210 total flying hours • 25 flight hours in the last 12 months
Hi, mein Name ist Bastian, ich bin 24 Jahre alt und habe mein Interesse an der Fliegerei bereits früh entdeckt. Mit 16 Jahren begann ich dann mit der Ausbildung zum Privatpiloten, die Lizenz habe ich seit Oktober 2016. Da es mir unglaubliche Freude bereitet, andere mit meiner Leidenschaft anzustecken teile ich mein Hobby mit meinen Freunden, der Familie, gerne aber auch mit Euch. Ich freue mich schon auf unseren Flug!
Pilot reviews
Alpenflug zum Dachstein mit Landung im Ennstal (1 Passagier)

Was soll ich sagen - nach 60 Lebensjahren und 50 davon Aviatik Fan habe ich heute einen Rundflug gemacht der alle meine Erwartungen erfüllt hat. Bastian baut Vertrauen auf - durch hohe Kompetenz als Pilot und viel Empathie. Nach einer perfekten Flugvorbereitung und sauberem Checklisten Lesen ging es in die heute durchaus sehr ruppige Luft. Darauf hat mich Bastian bereits bei einem Anruf im Vorfeld aufmerksam gemacht. Der Flug bot eine großartige Aussicht und das was man im Unterschied zum Airlin...

Neusiedlersee-Rundflug

Schon von der ersten Kontaktaufnahme war Bastian kompetent und sympathisch. Die Terminfindung war problemlos. Der Flug selbst ein einzigartiges Erlebnis. Selbst der Wunsch nach einer kleinen Flugplan Änderung war kein Problem. Bastian ist einfach Weltklasse und nur weiter zu empfehlen.

Neusiedlersee-Rundflug (1 Passagier)

Bastian ist sehr professionell. Das beginnt schon bei der Flugvorbereitung. Er erklärte den kompletten Preflight-Check und vieles rund um's Fliegen. Ich habe mich sehr sicher gefühlt und es hat mir sehr viel Spaß gemacht. Ich werde sicher gern wieder einmal mitfliegen. Volle Empfehlung! Danke Basti, ein toller Flugtag!

Genuss-AusFLUG nach Krems (1 Passagier)

Super Rundflug über Wien und Neusiedlersee bei perfektem Wetter in Jänner mit Weitsicht. Gute Kommunikation und kompetent, gerne wieder.

Großer Rundflug Ostalpen

Sehr netter Pilot bei Verschiebungen des Termins immer bemüht einen neuen zu finden, er erklärte beim Fliegen alles sehr gerne wieder Danke
Things to know
Total experience time
The total experience time is 45m as it includes briefings and 45m for flying.
Weather
Good weather conditions are required for this flight to take place. The pilot may need to postpone or cancel your booking.
Cancellation policy
You can cancel up to 24 hours before the flight date.
What to bring
Feel free to bring your camera and sunglasses onboard.
We've got you covered
All Wingly flights are automatically covered by our Allianz insurance for claims up to €1,000,000. This covers all passengers and their belongings.
Learn more about the insurance
Frequently asked questions