Christmas Sale 🎄
Save up to €100 with code XMAS.
Almost late for your Christmas shopping👇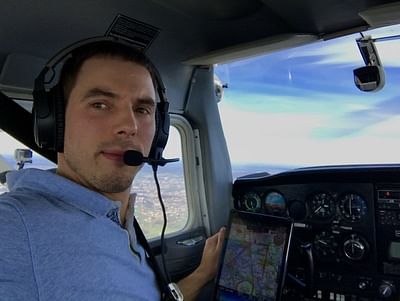 Excursion flight
You will fly from Bielefeld to Langeoog to enjoy your time there, then you will fly back.
View flight plan
Private pilot
A private individual flying in their own free time who contributes to the total price through cost sharing.
Description
Wir starten am frühen Morgen in Bielefeld und fliegen über den wunderschönen Norden nach Langeoog. Dort verbringen wir einen entspannten Tag und fliegen abends wieder zurück. Wenn du z.B diesen Tagesausflüge als Wochenendausflug machen möchtest oder ihn für bestimmte Tage planst, kannst mir gerne schreiben, denn ich bin sehr offen bezüglich der Planung.
Aircraft
Verified by Wingly
Our team has thoroughly checked the pilots license and medical certificate.
Private pilot
A private individual flying in their own free time who contributes to the total price through cost sharing.
Flight Log
142 total flying hours • 20 flight hours in the last 12 months
...Fliegen bedeutet für mich, ein Stück Freiheit zu genießen. Meine Begeisterung teile ich gerne mit interessierten Mitfliegern... Wenn ihr Lust auf einen Flug habt, schreibt mir einfach wohin ihr fliegen möchtet und an welchen Tagen ihr Zeit habt! Ein paar Beispielflüge habe ich schon online gestellt, aber ich bin da sehr flexibel und wir können grundsätzlich in jede Stadt fliegen! Auch Ausflüge, die länger als einen Tag dauern, oder Flüge an Werktagen sind ( wenn frühzeitig angefragt )mögl...
Pilot reviews
Tagesausflug nach Langeoog

Unser Tagestrip von Bielefeld nach Langeoog mit Daniel war ein unvergessliches Erlebnis. Auf seine sympathische, persönliche und sehr professionelle Art hat Daniel uns im Voraus sowie während des Flugs alle Abläufe genau geschildert und alle Fragen beantwortet. Wir haben uns absolut sicher gefühlt und bekamen einen guten Einblick in die Tätigkeiten eines Piloten. Der Ausblick war atemberaubend. Zudem haben wir tolle Tipps für den Aufenthalt auf Langeoog erhalten. Vielen Dank für diesen tollen Ta...

Tagesausflug nach Langeoog

Es war für uns ein super toller Tag bei herrlichem Novemberwetter! Daniel hat im Vorfeld und während des Fluges prima erklärt und Fragen beantwortet! Wir fühlten uns mit ihm in dem kleinen Flugzeug total sicher und wohl! Es wird bestimmt nicht unser erster und letzter Flug bleiben! Regina und Gerd aus Löhne

Tagesausflug nach Langeoog

Wir hatten ein super Wochenende mit Daniel und Anna auf Borkum. Daniel ist eine sehr offene Person und beantwortet euch alle Fragen, die ihr habt :) Ihr könnt euch auf den Flug mit ihm freuen!

Bielefeld Rundflug

Der Flug mit Daniel war super!!! Super Typ, super Erlebnis. Sicher in allem und sympathisch. Die Kommunikation astrein. Wunderschöner Flug. Daniel hat uns ganz phantastisch alles gezeigt. Mein Sohn (10) und ich haben einen traumhaften Nachmittag erlebt. Ich würde sofort wieder fliegen, am liebsten jeden Tag. Wingly ist super zum Ausprobieren.

Rundflug ab Bielefeld

Mein erster Flug in meinem Leben.Seit 51 Jahren sag ich immer,,Ich steige in kein Flugzeug,, Habe totale Höhenangst und wollte mich dem jetzt stellen.Es ist gelungen,Dank Daniel!Und natürlich dank meines Mannes ,der mir dies zum Geburtstag geschenkt hat . Daniel hat mich sehr beruhigt in dem er wirklich alles vorher gecheckt hat.Ich könnte die dümmsten Fragen stellen,alles verlief sehr locker. Start, Flug und Landung sehr sehr sicher.Daniel können wir mit sehr gutem Gewissen weiter empfehlen.Das...
Things to know
Total experience time
The total experience time is 2h 30m as it includes briefings and 2h 30m for flying.
Weather
Good weather conditions are required for this flight to take place. The pilot may need to postpone or cancel your booking.
Cancellation policy
You can cancel up to 24 hours before the flight date.
What to bring
Feel free to bring your camera and sunglasses onboard.
We've got you covered
All Wingly flights are automatically covered by our Allianz insurance for claims up to €1,000,000. This covers all passengers and their belongings.
Learn more about the insurance
Frequently asked questions