Christmas Sale 🎄
Save up to €100 with code XMAS.
Almost late for your Christmas shopping👇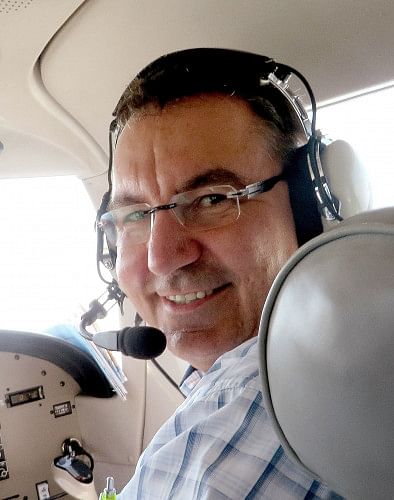 Excursion flight
You will fly from Nordhorn-Lingen to Norderney to enjoy your time there, then you will fly back.
View flight plan
Private pilot
A private individual flying in their own free time who contributes to the total price through cost sharing.
Description
Hallo liebe Mitflieger. Wir starten morgens gegen 10:00 Uhr in Klausheide, fliegen dann ca. eine Stunde bis nach Norderney. Gegen 18:45 Uhr treffen wir uns dann wieder am Flugplatz auf Norderney. Gegen 19:45 Uhr landen wir dann wieder in Nordhorn (Klausheide). Es ist auch möglich, statt nach Norderney zu einer anderen ostfriesischen Insel (Borkum, Juist, Langeoog, Baltrum oder Wangerooge) zu fliegen oder zu einer west- oder nordfriesischen Insel. Bei Interesse einfach eine Nachricht schicken. WI...
Flight plan
Sightseeing points

Meyer Werft, Ölmühlenweg, Papenburg, Deutschland
Dollart
Aircraft
Verified by Wingly
Our team has thoroughly checked the pilots license and medical certificate.
Private pilot
A private individual flying in their own free time who contributes to the total price through cost sharing.
Flight Log
550 total flying hours • 75 flight hours in the last 12 months
Ich fliege seit 1991 einmotorige Flugzeuge mit verschiedenen Flugzielen in Europa. Gerne fliege ich zu besonderen Zielen wie die Kanalinseln oder zur Airshow nach Duxford. Beruflich bin ich in der Projektlogistik für Großkomponenten tätig. Motto: Über den Wolken ist die Freiheit grenzenlos.
Pilot reviews
Ein Rundflug über das Münster- oder Emsland

Ich/wir würden sofort mehr als 5 Sterne vergeben. Von der Anfrage bis zum Flug selber hat alles mehr als perfekt geklappt. Selbst wenn uns der Flug nicht gefallen hätte würden wir alleine wegen dem Piloten alle Sterne vergeben. Danke für das tolle Erlebnis und hoffentlich bis bald:)

Ausflug nach Langeoog (2 Personen)

Wir hatten einen tollen Ausflug nach Langeoog. Die Kommunikation im Vorfeld hat einwandfrei funktioniert. Aufgrund von Krankheit bzw. Wetter mussten wir unseren Termin leider zweimal verschieben, aber Ralph hat ganz flexibel für einen Ersatz gesorgt. Er ist sehr gewissenhaft und kompetent, hat uns auf dem Flug alles genau erklärt und unsere Fragen beantwortet. Es wird nicht das letzte Mal gewesen sein, dass wir mit Ralph unterwegs waren :-)

Den Tag auf Norderney genießen

Es war ein superschöner Tag auf Norderney nach einem tollen Flug, den meine Mutter und ich sehr genossen haben. Einen Flug mit Ralph würden wir immer wieder gerne machen!!! Schade ist nur, dass es mit der Buchung über Wingly so schwierig ist und es, wenn Ralph nicht so spontan gewesen wäre, da eine kurzfristige Buchung nicht möglich war, trotzdem mit uns geflogen ist. Sonst hätte es auch diese Mal mit dem Tagestrip nicht geklappt. Da man für die Flüge gutes Wetter braucht, sollte man direkten K...

Ein Rundflug über das Münster- oder Emsland

War ein super Flug :-) alle waren bestens zufrieden :-)

Den Tag auf Norderney genießen

Wenn wir noch einmal fliegen, dann nur mit Ralph! Mein Mann hat mir einen Wingly-Gutschein zum Geburtstag geschenkt und anfangs lief es etwas frustrierend, da von den Piloten, die wir zuerst angeschrieben haben, niemand geantwortet hat. Bei Ralph war das zum Glück anders, die Kommunikation mit ihm vor und auch während des Flugs lief einwandfrei. Wir haben uns bei ihm sehr sicher und wohl gefühlt. Der Flug verlief sehr angenehm und Ralph ist ein super sympathischer und freundlicher Mann. Wir w...
Things to know
Total experience time
The total experience time is 2h as it includes briefings and 2h for flying.
Weather
Good weather conditions are required for this flight to take place. The pilot may need to postpone or cancel your booking.
Cancellation policy
You can cancel up to 24 hours before the flight date.
What to bring
Feel free to bring your camera and sunglasses onboard.
We've got you covered
All Wingly flights are automatically covered by our Allianz insurance for claims up to €1,000,000. This covers all passengers and their belongings.
Learn more about the insurance
Frequently asked questions