Christmas Sale 🎄
Save up to €15 with code XMAS.
Almost late for your Christmas shopping👇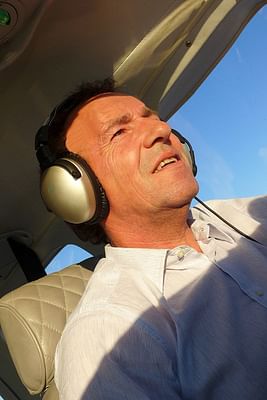 Sightseeing flight
You will fly from Weiden in der Oberpfalz and come back. Enjoy the beautiful landscapes along the way.
View flight plan
Private pilot
A private individual flying in their own free time who contributes to the total price through cost sharing.
Description
Ab/An am Flugplatz Weiden-Latsch. Route nach Ihren Wünschen z.B. über Weiden und Neustadt oder Luhe-Wildenau. Unterwegs sehen Sie Burgruinen und Schlösser, opulente Privathäuser bekannter Persönlichkeiten und romantische Dörfer, Seen und Flüsschen, große Firmenareale und Naturdenkmäler - garantiert unvergesslich und mit Wiederholungsgefahr! Wenn es Ihre Zeit erlaubt, planen Sie einen Rundflug am Morgen ab 9 Uhr oder später Nachmittag bis 17 Uhr. Die Sichten sind dann klarer und der Flug ruhiger....
Aircraft
Verified by Wingly
Our team has thoroughly checked the pilots license and medical certificate.
Private pilot
A private individual flying in their own free time who contributes to the total price through cost sharing.
Flight Log
3650 total flying hours • 150 flight hours in the last 12 months
Hallo! Schön dass Du nach einer Mitfluggelegenheit im Raum Nordostbayern suchst. Egal ob ein Rundflug z.B. als ein außergewöhnliches Geburtstagsgeschenk oder einen Streckenflug exakt nach Deinen Wünschen und Terminen oder einen Checkflug zur Verlängerung Deiner Lizenz kann ich Dir als Fluglehrer für angehende Berufspiloten (FI(A): SEP, MEP, IR + SPL) ein entspanntes Flugerlebnis versichern. Du fliegst entweder mit einer fast neuen Cessna 172, einem sehr bewährten Hochdecker mit uneingeschränkt...
Pilot reviews
Oberpfalzrundflug zum Steinwald - 45 Min

Ein wunderschönes Erlebnis, das in sehr guter Erinnerung bleiben wird. Die Heimat von oben sehen ist schon was sehr Besonderes. Und ein ganz großes Dankeschön an René! Schon der freundliche Empfang und die unaufgeregte Einführung am Boden waren toll. Aber einmal im Cockpit merkt man, dass er in seinem Element ist. Die Erklärungen zu den überflogenen Punkten sind super interessant. Ebenso wie die Erläuterungen zum Fliegen. Auf jeden Fall eine Empfehlung!

Co-Pilot Schnupperkurs Pinch Hitter inkl. Begleitperson

Was für ein Erlebnis! René hat mir erstmal erklärt, wie so ein Flugzeug und das Fliegen funktioniert, danach gings in die Luft! Das Ganze dann selbst zu erfahren war echt aufregend.. Hinterher hat er mir noch all meine Fragen beantwortet. Ein toller Tag und ganz bestimmt mein erster Schritt in die Fliegerei. Vielen Dank!

Oberpfalzrundflug entlang der Waldnaab - 45 Min

Unser Rundflug mit René war ein tolles Erlebnis, sehr netter, erfahrener Pilot, der uns alles erklärt hat. Wer seine Heimat von oben sehen möchte, ist bei René bestens aufgehoben.

Oberfranken Rundflug - 45 Minuten

Unser Flug mit René war super! Von der Terminabstimmung bist zum Flug absolut weiterzuempfehlen :) René hat uns beim Flug alles erklärt und sich auch nach unseren Wünschen bei der Route erkundigt 😊 war ein super Erlebnis! Jederzeit wieder!

Oberpfalzrundflug für Andreas

Super Kompliment an René! Von der Kommunikation im Vorfeld bis zur Landung alles top gewesen. René ist sehr routiniert und sympathisch. Anlass für den Rundflug war, meine nicht mehr ganz so jungen Eltern noch einmal in die Luft zu bringen und verschiedene Orte aus ihrem Lebensweg in der Oberpfalz von oben zu sehen. Es war ein unvergessliches Abenteuer für die beiden und sie haben sich sehr gefreut. Auch das Ein- und Aussteigen hat für meinen Vater, der im Rollstuhl unterwegs war, mit etwas Unter...
Things to know
Total experience time
The total experience time is 30m as it includes briefings and 15m for flying.
Weather
Good weather conditions are required for this flight to take place. The pilot may need to postpone or cancel your booking.
Cancellation policy
You can cancel up to 24 hours before the flight date.
What to bring
Feel free to bring your camera and sunglasses onboard.
We've got you covered
All Wingly flights are automatically covered by our Allianz insurance for claims up to €1,000,000. This covers all passengers and their belongings.
Learn more about the insurance
Frequently asked questions