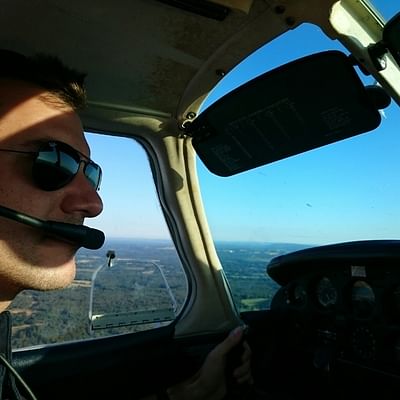 Calum
Inscrit depuis août 2017
Pilote privé
Le pilote est un particulier proposant des vols à frais partagés sur son temps libre. Il participe également aux coûts du vol et ne réalise aucun profit.
Carnet de vol
330 heures de vol au total • 28 heures de vol dans les 12 derniers mois
Qualifications

Instrument Rating
Night Flight Qualification
À propos de Calum
I have been flying as a private pilot for the past 7 or so years, flying for fun and sharing my aviation experiences with friends and family. Having gained my PPL and Night Rating in Bournemouth, I have since based myself out of Fairoaks Airport in Surrey and Blackbushe Airport in Hampshire and learnt to fly a range of different single engine piston aircraft, also gaining a restricted Instrument Rating. With over 225 hours flying experience including anything from short pleasure flights to destinations as far afield as Amsterdam, I am sure you will enjoy your flight wherever we go!
Avis
Alderney by air - the fastest route to the Channel Islands

We had the most amazing day, highly recommend flying with Calum and visiting Guernsey. What a beautiful place. Calum was very informative and made sure we knew exactly what was going on, we felt very safe in his hands. I wanted to stay! Highly recommend. Thank you

Sightseeing flight from Redhill

Calum, I had a brilliant time and it was a very enjoyable flight! Even the weather was on our side! Many thanks Martin Sigrist

Plane spotting at Kemble (Cotswold Airport)

We had a very enjoyable flight with Calum from Redhill to Headcorn and back. We flew over the cliffs in Dover and the war memorial. Calum is a very safe and competent pilot and easy to get on with. Looking forward our trip to Le Touquet in the Spring. He was very good at communicating via email to keep us up to date. Graham

Sightseeing flight from Redhill

It was a delight to fly with Calum. He flew us so smoothly with relaxed competence that it felt as if we were sublimely floating above the gorgeous English countryside, and the waypoints of Arundel Castle and Beachy Head amongst others were fascinating. He organised the route that we wanted and we will fly with him again, no problems !

Excursion flight from Redhill to Sandown

Calum was early , professional , experienced and friendly , all in all a top man . Great flight to Isle of Wight and wood fired pizza for lunch can't be beaten ! Plane is very nice and upto date in all aspects . Highly recommend Calum