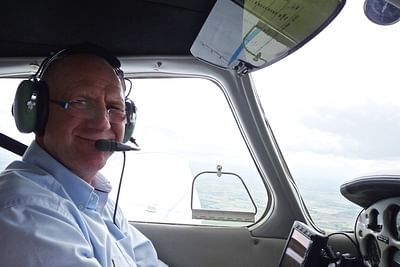 Willie
Inscrit depuis septembre 2016
Pilote privé
Le pilote est un particulier proposant des vols à frais partagés sur son temps libre. Il participe également aux coûts du vol et ne réalise aucun profit.
Carnet de vol
1340 heures de vol au total • 180 heures de vol dans les 12 derniers mois
Qualifications

Night Flight Qualification
Instrument Rating
À propos de Willie
I have had a passion for flying from a young age, so as soon as I had saved enough to embark on my training to be a pilot I started. With now over thirty years experience of flying light aircraft, your flight is guaranteed to be a pleasurable experience. I also have been a racing driver since 1974, and own an electrical contracting Company. I look forward to having you onboard.
Avis
Day trip to Newquay (2h30)

Not our first flight with Willie, but again surpassed our expectations. Spent lots of time explaining various things to my teenage son. Once again, no hesitation in recommending

Flight to Dinard

Another great trip with Willie, this time there and back in a day to Dinard in northern Brittany from Turweston (near Banbury). Really great weather, and surprisingly more to see over the English Channel than I feared. Lots of really big cargo ships out in the shipping lanes, and some great views of Alderney, Sark, Guernsey and Jersey, and hundreds of little rocky reefs and outcrops between Jersey and the St Malo /Dinard area. The return flight was quite similar to the outbound, some great views...

Day trip to the Isles of Scilly, take off from Turweston

What a day. Such an excellent day trip made special with such a good pilot. As an aviation enthusiast I couldn't have asked for more, I learnt so much sitting alongside Willie who took the time to explain all that was happening whist delivering such a smooth flight. Cant wait to do it again. .

Short hop to Sandown for lunch - 3 Seats

Absolutely amazing day that will live with my wife and I forever. We flew with Willie, a gentleman and excellent pilot, from Turweston to Sandown, Isle of Wight. Willie is very reassuring and informative, explaining all aspects of his aircraft both pre flight and during the whole trip. We flew at 4000 ft in beautiful weather with clear visibility, so good in fact that we could see The IOW from just South of Oxford. Willie's Uncle John met us at Sandown , another true Gent, and gave us a lift...

Short hop to Sandown for lunch - 2 Seats

Excellent Informative friendly safe and reliable top man