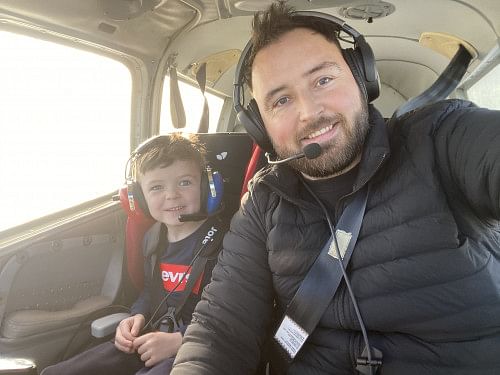 Jamie
Inscrit depuis août 2018
Pilote privé
Le pilote est un particulier proposant des vols à frais partagés sur son temps libre. Il participe également aux coûts du vol et ne réalise aucun profit.
Carnet de vol
188 heures de vol au total • 82 heures de vol dans les 12 derniers mois
Qualifications

Night Flight Qualification
Instrument Rating
À propos de Jamie
My name is Jamie. I am a Private Pilot flying out of Netherthorpe, near worksop and Sandtoft, North of Doncaster but happy to travel to airfields to meet you. I love to fly and enjoy the British countryside from the skies and visit new airfields. When flying with me I not only like to take you on an experience but also explain throughout the flight what is happening, the procedures and checks that are made. This has been great in the past for first time or nervous flyers. I am happy to create a flight to your requirement, just message me and we can arrange it.
Avis
Sight seeing Flight - Ladybower and Chatsworth

Was great to fly with Jamie. Even though the weather wasn't too great, he made all efforts to make sure the flight went ahead. We look forward to flying again with him.

Sight seeing Flight - Ladybower and Chatsworth

Great experience. Although the cloud conditions meant we had to fly a different circuit to the one planned, Jamie flew us over an interesting landscape and he was very knowledgeable about the ground beneath us. We learned a lot about the plane and flying. We would certainly fly with Jamie again if we fly again in the future.

Your house from the Sky - Sightseeing Tour

Absolutely brilliant guy what a fantastic experience for my partner and daughter I would highly recommend this Thanks so much Jamie

Your house from the Sky - Sightseeing Tour

Amazing flight with Jamie for my husbands 40th birthday surprise. As a nervous flyer Jamie made it as relaxing as possible for me. And my husband had an unforgettable experience flying over the Dales. We couldn't thank Jamie enough.

Sight seeing Flight - Route planned to your request

Really lovely flight! Had such a great time. Jamie is great and made us feel relaxed and answered all our questions about the aircraft and flying. Would definitely recommend him!