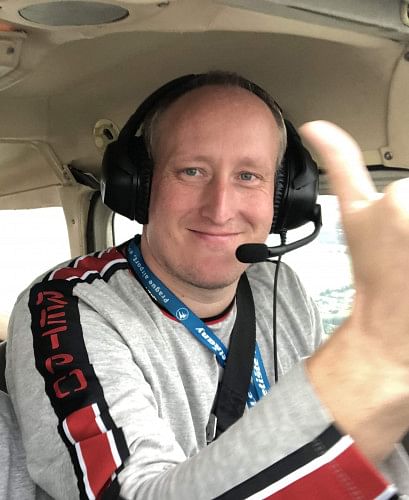 Jan
Inscrit depuis mai 2018
Pilote privé
Le pilote est un particulier proposant des vols à frais partagés sur son temps libre. Il participe également aux coûts du vol et ne réalise aucun profit.
Carnet de vol
180 heures de vol au total • 25 heures de vol dans les 12 derniers mois
Qualifications

Night Flight Qualification
À propos de Jan
Aviation enthusiast and dedicated pilot with a deep passion for the skies. Join me on a memorable journey as we discover the world from a unique perspective, and let's create unforgettable moments together.
Avis
Sight seeing flight around Prague

It's a pleasures to fly with Jan. Always when I visit Prague, I fly with him. I love the way he explains everything and he is really kind.

Sight seeing flight around Prague

Die Kommunikation mit Jan war äußert nett und informativ. Das ich den Flug für meine Schwester und meine Mama gebucht hatte war überhaupt kein Problem. Nachdem das Wetter am ursprünglichen Datum nicht mitspielte, hat Jan ohne Umstände den Flug nach hinten verschoben. Als er krank wurde hat er einen tollen Ersatz besorgt. Der Flug war klasse und hat viel Spaß gemacht. Eine ganz besondere Erfahrung. Vielen Dank dafür!

45 minutes flight near Prague, Czech Republic in Cessna 172

Great exeperience. Jan is super kind and careful! we totally advice it!

Sight seeing flight around Prague

Danke für unvergessliche Eindrücke! Jan ist ein extrem fürsorglicher, amüsanter Pilot. Wir haben uns absolut wohl gefühlt und würden es definitiv weiterempfehlen einen Flug mit ihm zu buchen. Sein Unterhaltungsprogramm war sympathisch, informativ und vor allem persönlich. Ihm würden wir wieder vertrauen und mit ihm fliegen.

Sight seeing flight around Prague

A lovely afternoon! Jan was very welcoming and very knowledgeable, we discussed options for our route. I was allowed some hands-on flying. Jan was very accommodating in manoeuvring the aircraft to allow photos to be taken. We thoroughly enjoyed the experience and would not hesitate to recommend Jan.