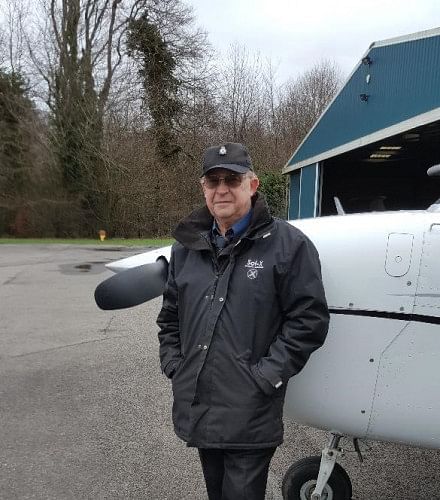 Bob
Inscrit depuis novembre 2017
Pilote privé
Le pilote est un particulier proposant des vols à frais partagés sur son temps libre. Il participe également aux coûts du vol et ne réalise aucun profit.
Carnet de vol
1904 heures de vol au total • 34 heures de vol dans les 12 derniers mois
Qualifications

Instrument Rating
Night Flight Qualification
À propos de Bob
I am a very experienced pilot, been flying since the 1970's in various parts of the world including the U.S.A., Europe and the U.K. I have been regularly flying this type of aircraft since the early 1990's and have flown as far as Gibraltar, Malaga and various other continental destinations in small, light aircraft. These aircraft are fully equipped with the latest navigational technology (radios, GPS, autopilot ILS etc.) I enjoy introducing people to aviation and have been successful reassuring even the most nervous of passengers. I have also instructed with the Air Training Corps. Please bear in mind that enquiries only become firm bookings once registered with Wingly, so I am happy to discuss details, but cannot hold flights open until they are booked on the Wingly website. NOTE: Many Dates are becoming booked up so message me to check availability. Thank you.
Avis
Spend the day at the Thruxton Racing Circuit

It was a lovely flight to Thruxton in late October and though a bit cloudy, Bob was a great pilot and made sure we had an enjoyable day out.

Flight To View London Boundary.

Had never done anything like this before. Went with my girlfriend for her birthday and had an amazing time. Bob is an excellent pilot and a wonderful person. We had coffee with him after the flight and we would definitely do it again if the opportunity arises. Highly recommended!

Flight To View London Boundary.

Having never done anything like this I looked at wingly for ages looking at all different flights and reviews and picked one of Bob's flights and he was absolutely brilliant from when we first met him at the cafe to being in the air. Bob made the experience and if you are looking at one of bobs flights you most certainly won't be disappointed. Thanks for such a great day Dexter and mum.

Flight To View London Boundary.

A superb time flying with Bob! He made us feel reassured and ensured we had an enjoyable experience. Thank you Bob, definitely will be flying again soon!

Flight To View London Boundary.

Bob is an amazing pilot. He was very friendly and we felt like we've known him forever. A pilot who knows what he's doing. Thank you so much for the day Bob. We look forward to experiencing another flight with you.