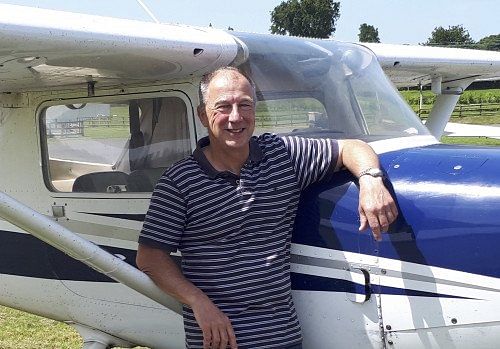 Michael
Mitglied seit Oktober 2021
Privatpilot
Der Pilot fliegt in seiner Freizeit und zahlt seinen Anteil beim Flug auf Kostenteilungsbasis mit.
Flugbuch
180 Gesamtflugstunden • 60 Flugstunden in den letzten 12 Monaten
Qualifikationen

Instrument Rating
Über Michael
Hi, I am an enthusiastic pilot who loves to explore new locations, this year has been challenging with Covid but highlights were Outer Hebrides, Scilly Isles, plus various locations in Devon and Cornwall. I am lucky enough to own my own Cirrus SR22 which is fast, comfortable and extremely well equipped. It is air conditioned for the few really hot days we get in the UK. I am semi retired so always up for a trip. Looking forward to planning trips to Channel Islands and France in the not too distant future.
Bewertungen
Excursion flight to Snowdonia and Llŷn Peninsula

An excellent flight, but shame that the promised one and a half hour flight over Snowdonia with a landing at Caernarfon turned into a one hour flight without a landing that did not get as far. Feeling rather cheated.

Lleyn Peninsula and Snowdonia

What an amazing flight with an experienced pilot who made the trip very enjoyable. Mike was very easy to get hold of from beginning to end and I would definitely go to Mike again when we want more flights in the future. Couldn't have asked for anyone better!

Lleyn Peninsula and Snowdonia

Michael was easy to get hold of and very amenable with trying to find a time to suit and watching the weather. I booked on behalf of my dad and he had a fantastic time and couldn't find any faults. Thank you for being so accommodating and providing a fantastic experience.

Excursion flight from Shobdon to Bembridge

Excellent flight. My husband and son thoroughly enjoyed. Very comfortable aircraft.

Brecon Beacons Sightseeing Flight

A delightful flight in a very impressive aeroplane. It was a pleasure to meet Mike, our pilot. His communication ahead of the flight was excellent, making arranging the flight quick and easy. He was a friendly host and took very good care of us. Mike is a conscientious and safe pilot. I chose this flight because I wanted to fly in a Cirrus SR22. The SR22 is a modern, powerful aeroplane with a state of the art 'glass' cockpit. The SR22 was very comfortable, and the visibility was good....