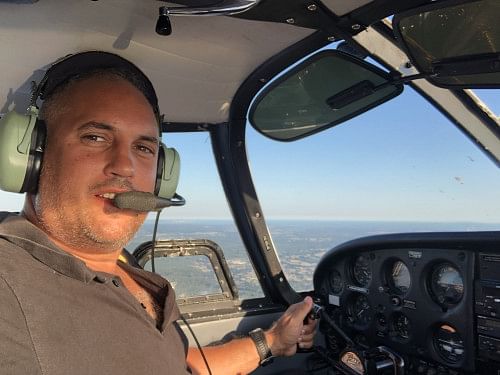 Chris
Mitglied seit August 2019
Privatpilot
Der Pilot fliegt in seiner Freizeit und zahlt seinen Anteil beim Flug auf Kostenteilungsbasis mit.
Flugbuch
560 Gesamtflugstunden • 100 Flugstunden in den letzten 12 Monaten
Qualifikationen

Night Flight Qualification
Über Chris
A confident & professional Pilot with many years of experience flying around the world. I really do get a sense of satisfaction in taking people flying who really enjoy it themselves. If a certain flight is not on my profile I'm always happy for requests for a new adventure.
Bewertungen
Jurassic Coast Sightseeing flight

Chris bent over backwards to get our flight off ground due to unfavourable weather leading to delays. We had lovely flight over area we know well from many walking /cycling trips,p Chris pointed out places of interest and informed us of various flight procedures ie route restrictions, course changes etc. All in all most enjoyable evening flight. Will most likely do another flight. Thanks Chris ,Maggie and Barry Carr

Jurassic Coast Sightseeing flight

We had a fantastic flight with Chris which was a present for my father's 90th birthday. Chris was incredibly kind and helpful with my father especially when getting in and out of the aircraft. He is clearly a very skilled and confident pilot and pointed out points of interest along our route. I would wholeheartedly recommend Chris and this trip along the Jurassic coast.

Jurassic Coast Sightseeing flight

We had an awesome flight with Chris. He put up with us changing the date a couple of times and he also postponed a date to make sure we had the best weather possible which gave us sensational views of the Jurassic coastline. I was a bit nonchalant at the prospect of the flight having done it before but Chris made sure we had a very personal and exclusive flight with a bit of fun and deviation thrown in. Chris was professional, down-to-earth and informative throughout the flight. I felt we wer...

Jurassic Coast Sightseeing flight

Chris was so lovely and welcoming made me and my grandad feel at ease. Especially my grandad who hasnt gotten in a small aircraft since he had a bad accident. We both loved the flight and will definitely be booking again for more of the family. Thank you again.

Jurassic Coast Sightseeing flight

This was a really fantastic, unforgettable experience. To share a flight with someone as friendly, knowledgeable, gifted and experienced as Chris was an absolute privilege. To take off from Runway 26 at Bournemouth Airport in a light aircraft was another great privilege, and to look down upon the wonderful Jurassic Dorset coastline - (surely one of the most beautiful coastal landscapes there is) - was a third complete privilege. We will be telling friends and family about this flight for years t...