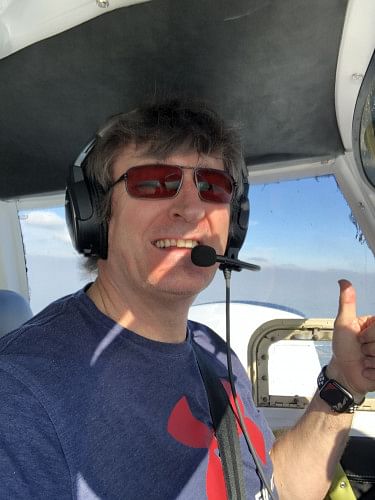 Mik
Mitglied seit August 2019
Privatpilot
Der Pilot fliegt in seiner Freizeit und zahlt seinen Anteil beim Flug auf Kostenteilungsbasis mit.
Flugbuch
312 Gesamtflugstunden • 24 Flugstunden in den letzten 12 Monaten
Qualifikationen

Instrument Rating
Night Flight Qualification
Über Mik
The aircraft only has at any one time 3 seats available. I have put this as I have been getting a lot of requests for more than 3 seats, hopefully you will read this before messaging myself. Thanks I have been flying for around 7 years, mainly flex wing microlights, the last 4 years is fixed wing. Mainly now flying my PA-28, in addition I have also flown Cessna 150s, 152s and 172s whilst in training. I bought the PA-28 as my wife would never come up in a flex wing microlight, so an aeroplane maybe? since we have had the aeroplane she has about 45 hours flight time with me. She was nervous of departing and landing, in the few times we have done both she said she's now not bothered about departing, just the landing to conquer… so you can do it
Bewertungen
Scenic Excursion Flight over the Peak District and Sheffield

Mik was very friendly .We had done the flight for my mother in law as she is 87 and never flown before….she absolutely loved it.Mik was informative all through the flight pointing things out to her and my wife.I would highly recommend him to anyone thinking of booking a flight.They flew over Lady bower dam and Chatsworth House as part of their flight.

Sightseeing flight: Humber Bridge and back from Belton

Best day out ever! Really nice chap and my son has said the experience was the best day of his life! Can't praise Mik highly enough. Felt 100% safe throughout our flight. Thanks so much for a great experience.

Humber bridge, Hornsea and the Humber estuary

100% best day of my son's life , managed to drop on a good day - considering time of year . . Miks fantastic pilot and great guy , he tried and tried to engage conversation with my son but he's super shy with strangers, and was busy in his own world - he's wanted to go up in a plane forever ! ! Absolutely made his day !!! will definitely go again with mik , although my son will need someone else to accompany him, lol , my stomach hated the few bumpy bits we had , but mik was brilliant and went...

Sightseeing flight: Humber Bridge and back from Belton

Mik was fantastic, very friendly and made us all feel at ease. He was very knowledgeable and my partner really enjoyed chatting to him as we flew. He made my son's day by letting him ride in his Tesla which topped off his birthday treat perfectly! I would happily recommend Mik to anyone and would book again with him in future.

Scarborough and Bridlington seaside flight

Great pilot, really friendly and knowledgeable about the area. Loved the fllybys of Scarborough and Flamborough. Thanks Mik!