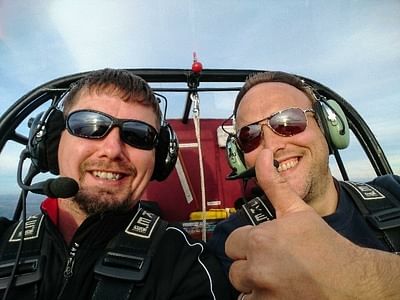 Nick
Mitglied seit Dezember 2018
Privatpilot
Der Pilot fliegt in seiner Freizeit und zahlt seinen Anteil beim Flug auf Kostenteilungsbasis mit.
Flugbuch
450 Gesamtflugstunden • 35 Flugstunden in den letzten 12 Monaten
Qualifikationen

Instrument Rating
Night Flight Qualification
Flight Instructor Rating
Über Nick
Hi, and thanks for looking at my flight page. I have been flying since I was 14 (Gliding) and obtained my power licence when I was in my early 30s. I am now 40 :-) I love flying/aeroplanes and anything aviation. I try to fly as much as I can and enjoy nothing more than sharing my passion with others. after all, Its a lot more fun flying with other people than it is flying on your own. I hope to see you soon, lets take a flight Fly Safe Nick
Bewertungen
Jurassic Coast - Sight seeing flight

Had a brilliant flight with Nick, very professional whilst being friendly, informative and accommodating with the itinerary. Would not hesitate to recommend.

Ian's 'Old Harry' Flight

I can not put into words how much I loved this one & half hour flight experience. Nick has a motorised Glider on a private airstrip , so no having to go to an Busy Airport. Nick was very helpful, we talked about what I wanted see and we managed it all and more A+

Fly over the Jurassic Coast in your own private plane!

Brilliant. Nick was just great, very informative and helpful making sure we flew over our cottage.

Louie's Trip to the Channel Islands

Great service, can't recommend enough!

Fly over the Jurassic Coast in your own private plane!

Es war ein Geschenk für meinen Mann und er fand es richtig toll! Nick ist sehr nett und es hat viel Spaß gemacht! Zu empfehlen!!!